Richard Watson, English artist, 1840-1921
Richard Watson (1840-1921) was an English painter of animal and landscape scenes. He specialized in sheep- and cow-herds.
According to one gallery biography, Watson was a student of Sir Edwin Henry Landseer (1802-1873), a famous 19th century English painter of animals, and the French realist Rosa Bonheur (1822-1899). Watson began his first studies in the atelier of Ruthland (London), after which he was sent to the Royal Institute for some years. After this schooling, the young artist went to the continent, where he contacted the leading artists of Paris, Munich, Vienna, and Rome. Watson had two successful exhibitions in Paris, which made his works well-known and appreciated. He returned to England in 1868, winning several prizes at exhibitions in the capital.
Watson's surviving works are also held in the collections of the Walker Art Gallery of Liverpool, the Mappin Art Gallery of Sheffield, and the Art Gallery of Sunderland.
No title for the painting shown below (oil on canvas, 36 by 24 inches) is known, but it does appear to be signed and dated to 1920; that the artist could so skillfully work at such an age is remarkable. It was acquired by a family member from the retail galleries of Marshall Field in Chicago in the 1970s. The first image shows a central portion, about one-half of the full 36-inch width. The second image shows a 6-inch-wide close-up of the central subjects. The speckles and other reflections are artifacts of the casual lighting used to take the digital photographs.
A correspondent suggests that the depiction may be of specimens of the extinct Scottish Dunface breed [Wikipedia], or perhaps the primitive breed known as Soay sheep [Wikipedia]. Another correspondent, Brian Singleton of the UK, notes, "the sheep depicted appear to be of the Herdwick breed [Wikipedia], a variety indigenous to the rough uplands of Northwest England and more specially to that part of Cumbria (formerly Cumberland, Westmorland and part of North Lancashire) known as the Lake District. Herdwicks are the most hardy sheep around and roam the high fells in all weathers; they survive outdoors in all but the very hardest winters and are what makes hill farming possible in the region. Richard Watson's view shows typical English Lake District scenery in the background."
Based on the lack of reference in either the Grove Dictionary of Art, or on the Web, Watson seems to be little-remembered today.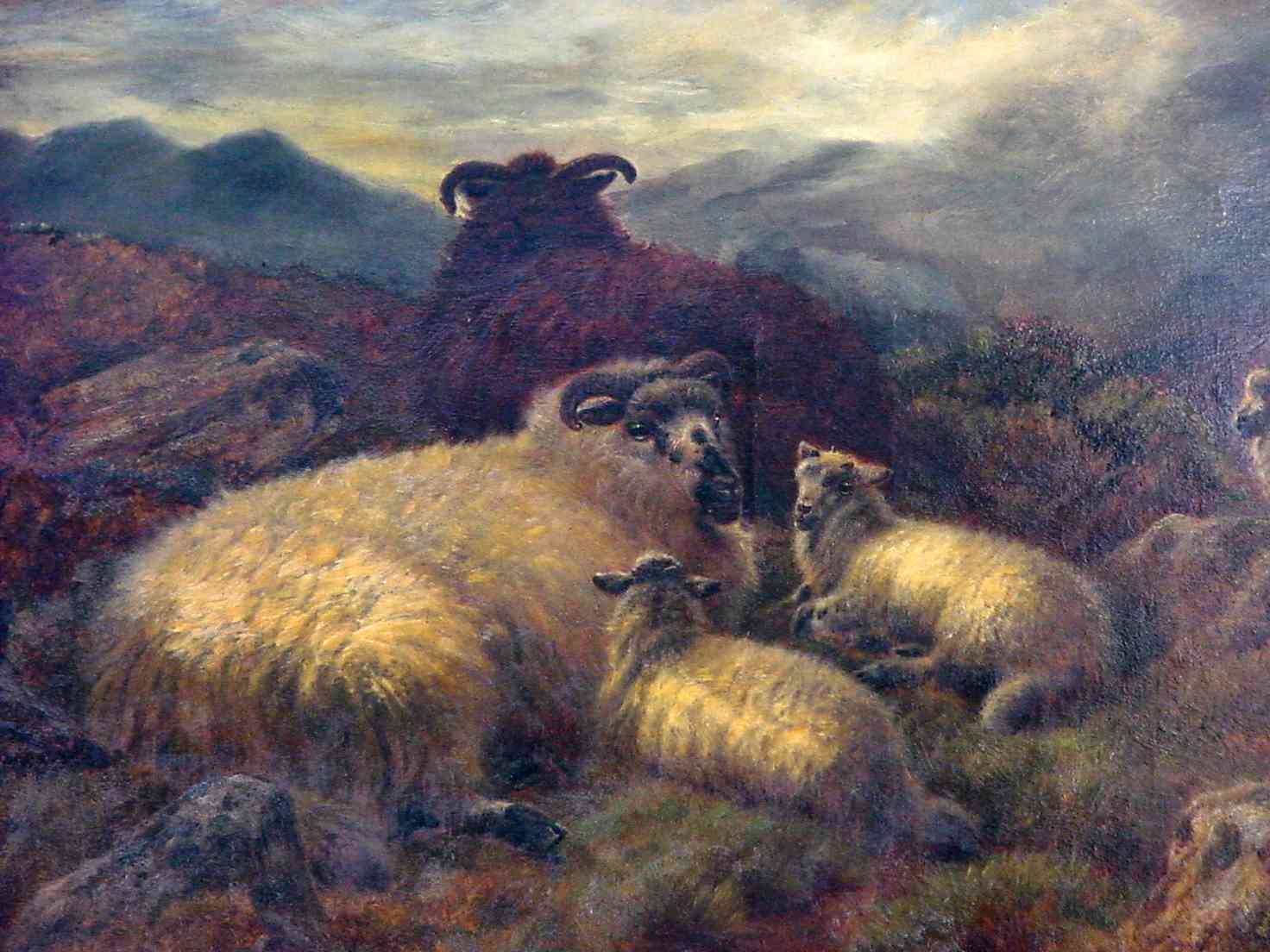 Have a comment or question on this painting or its display?
Email me at:
kinch@truetex.com
Richard J. Kinch
Back to Home page