TrueTeX
Software for Microsoft Windows
Release 4.0D Product Description
Typesetting for Text, Mathematics, & Graphics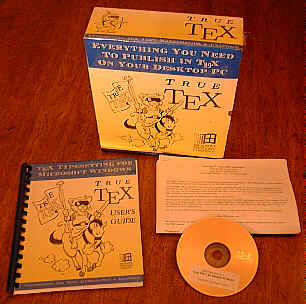 ---
If you write technical documents then TrueTeX is the professional software that will publish superb text, mathematics, and graphics for you. TrueTeX provides within Microsoft Windows all the tools you need for formatting, previewing and printing documents using the TeX typesetting language. TrueTeX includes three powerful and versatile Windows components:
TeX formatter: A 32-bit, native-Windows (WIN32) implementation of TeX compiles your documents quickly, with ``big'' TeX capacity for large documents and macro packages. Windows NT benchmarks show TrueTeX running faster than any other commercial or public-domain TeX formatter.
Fonts: 114 scalable TrueType fonts for all Computer Modern and AMS typefaces dramatically reduce the storage and time required, compared to bit-mapped fonts for TeX. TrueTeX uses exact, algorithmic conversions from the METAFONT programs for the plain TeX fonts, not autotraced approximations, so you get the precise shapes of the original text typefaces.
Previewer: The TrueTeX previewer shows you screen displays of TeX output with a flexibility that eliminates the need for draft printed copies. The ``desktop'' display clearly shows page size, margins, text areas, and graphic inserts in true WYSIWYG (what-you-see-is-what-you-get) fashion. What you see is what will print. The Previewer also connects you to all the power of Windows for printing and inter-application communication.
Whether you are creating your magnum opus or just a one-page memo, TrueTeX gives you all the elements of professional publishing. Your documents will have new clarity, style, and the finest quality that desktop publishing can provide.

For further information on the latest TrueTeX features, see the TrueTeX 4.1 version update details.
Other powerful features include:
Navigation: Zoom and pan in previews with mouse clicks or standard keyboard accelerators. Switch pages (next-previous-first-last) with single keys. Find pages in long documents with string searches. Control display and expert items with preference settings.
Windows standard user interface: Common menu layout and accelerator keys; Common Dialogs for file manipulation and printing; Multiple-Document Interface for page views; Clipboard Copy (scalable ``Picture'' format) for export to other Windows applications.
Automatic preview updates: Previewer automatically updates the display when you edit and format your TeX document from another window.
Printing: Print on any Windows device, such as laser or dot-matrix printers, color printers, fax cards, and sign cutters.
Graphics: Insert graphic items with universal TeX ``special'' command handling. Handlers included for PostScript (EPS, EPSF, and EPSI formats), bit map graphics (TIFF or BMP), and color text. C programmers can add their own plug-in handlers with the TrueTeX SDK (included).
Macro compatibility: Includes plain TeX, LaTeX 2e, and AMS-LaTeX (amstex). Compatible with all other TeX-standard macros and styles.
PostScript compatibility: Includes EPS graphics in TeX documents, previews EPSF and EPSI formats. Works with Adobe Type Manager, Type 1 fonts, Acrobat PDF Writer, and Acrobat Exchange/Distiller. Creates EPS output files via Windows driver. Previews and prints "dvips" TeX \special commands.
Font compatibility: Uses any TrueType ANSI font. Automatically re-encodes TeX fonts on-the-fly. Fully supports TeX virtual fonts. Font information windows list available fonts, TeX font names, and fonts used in a document. Editable substitution table renames or substitutes fonts. Auto font caching speeds printing. Exports TFM and PL font files. Uses any PostScript Type 1 font (Adobe Type Manager required).
Network compatiblity: Supports multiple users, personal initialization files, and document file sharing. Installation does not modify Windows system files. Programs and fonts may be installed on a network file server.
Multilingual support: Non-English hyphenation, characters, and accents supported. Supports LaTeX "inputenc" and "babel" packages. Supplies all English and metric page sizes.
Windows Help: Covers previewing and printing functions.
User's Guide: Includes instructions for quick installation, sample document tutorial, TeX and LaTeX language introductions and summaries, full index, and troubleshooting guide.
Technical support: Direct hotline via phone, fax, or E-mail.
Full TeX functionality: Typesets text, mathematics, tables, figures, floats, fonts, graphics inserts, sectioning, indexing, cross-references, bibliographies, glossaries, multicolumn layouts, multilingual text, and more. Formatter implements big TeX Version 3.1415.
System requirements for TrueTeX
Windows 95, 98 or NT. 8 MB RAM required, 16 MB recommended. Printing requires a Windows-compatible printer. Mouse or other Windows pointing device is optional but highly recommended. Package includes one compact disc.
Ordering TrueTeX
Price $450.
Upgrade for users of TurboTeX (our prior product): $300.


Ordering is easy by phone, FAX, mail, or e-mail, and delivery is fast! Terms: check with order (free ground shipping in USA), VISA, Mastercard, or COD. Net 30 to well-rated firms and public agencies. International orders welcome.


Richard J. Kinch
TrueTeX Software
7890 Pebble Beach Court
Lake Worth FL 33467 USA
Telephone (561) 966-8400


kinch@truetex.com


TrueTeX® is a registered trademark of Richard J. Kinch.
Adobe and PostScript are registered trademarks of Adobe Systems Incorporated.
Windows is a trademark of Microsoft Corporation.


Copyright © 1999 Richard J. Kinch